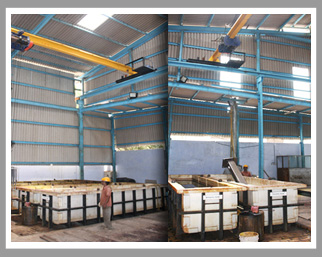 Hot-dip galvanizing, in comparison to the protection of steel surfaces using other means, represents single long-term protection. In combination with dying, the quality of protection may last more than fifty years.
Hot-dip galvanizing has up till now in the world been the most efficient and ecologically acceptable method of protecting steel. In technological and economical terms, the hot-dip galvanizing method has mostly been used in protection against corrosion.
Hot-dip galvanization of products has a wide area of application: road equipment, lighting columns, steel-reinforcing for concrete, in the automobile and shipping industries, maritime equipment, railways, electrical power industry, agricultural structures, metal products and items, various fencing, steel grill-like structures, reservoirs for various purposes, utility equipment for public city areas and sporting venues, metal piping for various purposes and basically all other steel products exposed to atmospheric conditions.
Ten of the most important reasons for using hot-dip galvanizing: