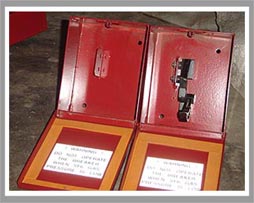 Of course fabrication is the heart of any good sheetmetal shop and we are no different. We have the equipment and skilled tradesman to produce the most complex parts and assemblies and in the least amount of time.
We manufacture everything in the Metal Fabrication realm. Our company is efficient to handle large scale Metal Fabrication. We manufacture all kinds of Precision Sheet Metal Fabrications ranging from Prototypes and Production to Laser, Turret, Brake Press and Tube Bending. These are made from superior grade Steel, Aluminium, Copper, etc. We facilitate entire forging and shaping at our own production line equipped with forging and pressing tools. We provide customized Fabrication of Sheet Metal according to the client's requirements.
Our commitment to quality sheet metal fabricating starts with each order or program. We will use our New Product Introduction (NPI) checklist to establish program parameters and timing. This is a streamlined process to insure that all of your requirements are understood up front and delivered in the final product we ship to you.
During the course of this process we will establish the critical to quality characteristics and the Quality Plan to make sure these are met. Our associates are highly skilled and capable of checking their own work. Documentation is available on-line in the shop as is our measuring equipment, making it easy to verify product quality at each production step.